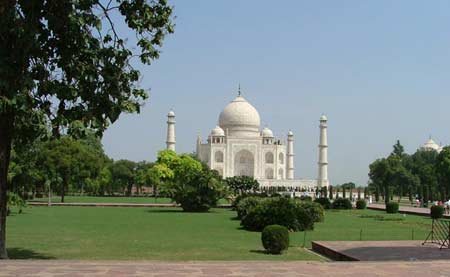 The Gems of India tour begins at Agra (a UNESCO World Heritage Site) where guests visits the Taj Mahal. It is made by Shah Jahan in the memory of his beloved wife Mumtaz.
A delicious brunch with Champanage will be served atop Taj Khema, from where you will get the mesmerizing view of Taj Mahal.
Return back to the train for a royal lunch.
After lunch, go for an off the train sightseeing tour to Agra Fort.
After exploring the Agra Fort in the afternoon, you can choose the optional activities such as
Enjoy a shopping tour
Spa session at a 5 star hotel
visit the Itmad-ud-Daulah tomb and Fatehpur Sikri
After that, guests can return to the comforts of the Maharajas' Express or may watch "Mohabbat The Taj Show" as an Optional Activity.
Get back to the lavish ambiance of the train for a royal dinner and overnight stay. The train will proceed to Ranthambore, which is its next destination.

Day Highlights:
A visit to the Taj Mahal. Brunch with Champanage a top Taj Khema. Visit Agra Fort. Optional tours of shopping or sightseeing to Itmad-ud-Daula Tomb and Fatehpur Sikri. You can also opt for a Spa Session at Palace hotel.