Maharajas Express is the most luxurious train in the world. The train has different levels of luxurious cabins for tourist accommodation. Deluxe cabin is the basic style accommodation. The tariff does not degrade the level of luxury promised by Maharajas' Express. A deluxe cabin covers 112 square feet area filled with amenities like live TV, internet, telephone, in-suite bathroom with shower cubicle and hot water facilities. Other top amenities include wardrobe, luggage hold, safe, butler service, slipper, bathrobe, hairdryer and others. Each coach has a dedicated butler who takes care of your needs. The high staff to tourist ratio makes individual attention possible.
There are 20 deluxe cabins in the train and 12 of those are provided with twin beds and 8 are fitted with double beds. Each cabin has writing table, DVD player, LCD screen and is fitted with air conditioning. The towels and linens are changed every day to maintain a hygienic environment. Talking about safety, the train is fitted with CCTV camera, paramedics, smoke alarm and many others. Deluxe coaches are provided for off-train excursions at each destination. There is a paramedic available throughout the trip in the train for any medical emergencies.
The train has a pneumatic suspension, which makes Journeys more pleasing and tireless. This smooth ride allows you to walk around and enjoy all the amenities. You can enjoy the lavish sub-lime ambience of the cabin as you ride to varying destinations. Each coach of the train is named after a precious stone. The coaches of deluxe cabins are Hakik(Agate), Firoza(Torquoise), Katela(Amethyst), Beruz(Aquamarine) & Pitoniya(Bloodstone).
Deluxe Cabin
( Area : 112 Sq. Ft )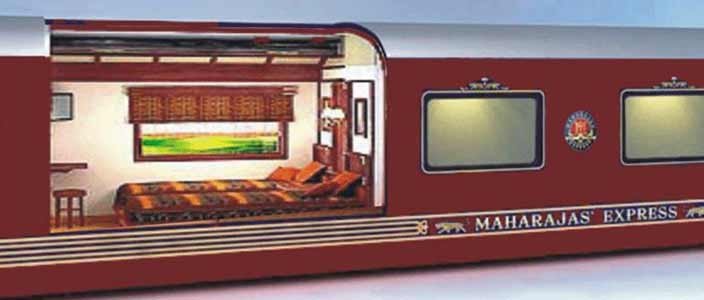 Room Area : 9'5" (L) x 7'-9"(W)
Bathroom Area : 7'9" (L) x 4'-9"(W)
| Room Category | Total / Cabin/Suite | Passenger Capacity |
| --- | --- | --- |
| Twin | 15 | 30 |
| Double | 5 | 10 |
| Total | 20 | 40 |
Double bed with dimensions 80 x 60 inches or twin bed with 80 x 33 inches
DVD player
Live television with LCD screen
Wi-Fi internet
Direct dial telephone with international services
Wardrobe
Electronic safe
Air conditioner with remote control
Daily change of towel and linen and upon request
Bathroom with shower cubicle, range of toiletries, hair dryers and others
Fire extinguisher
Basin
Bathrobe, slipper and other requirements
Complimentary snack, mineral water, coffee and tea available 24/7
Personal butler
Writing table
Luggage hold
Photo Gallery of Maharajas' Express Deluxe Cabins :