There are different styles of cabins provided by the train. All the cabins are provided with a unique styled living environment that mimics the pasts. There are different styles of cabin with varying price and level of luxurious amenities. The train manages to stuff royalty in all elements of the cabin. One such type of cabin is the Junior Suite. There are 18 suites, which are named after the precious gems that are common in India like Moti(Pearl), Panna(Emerald), Manik(Ruby), Gomed(Hessonite), Moonga(Coral) & Pukhraj(Sapphire) that indicates the royalty present in the overall experience provided in the trip of Maharajas' Express. The gem names are used as title as an indication of the luxurious style of accommodation inside the cabins. Out of the 18, 12 cabins are twin bedded and 6 are double bedded. All the junior cabins are fitted with a large panoramic window, which allows you to enjoy the scenery. The cabins have upholstery, DVD players, wardrobe, safe, luggage hold, telephone and an in-suite bathroom with toiletries and towels.
Apart from these, a butler who is on-foot for your order throughout the day serves the junior suite. The train has smoke alarms CCTV camera, RFID locks for doors, paramedics and many other services that make the Journeys more interesting, safe and luxurious. You can enjoy internet and live television throughout the trip.
All the carriages are air-conditioned and there are many facilities to keep you engaged. Each coach of Maharajas Express has a mini-pantry, which serves water and snacks throughout the day. You can enjoy a personalized service as you please with all state-of-the-art amenities throughout the vacation in Maharajas Express.
Junior Suite
( Area : 150 Sq. Ft )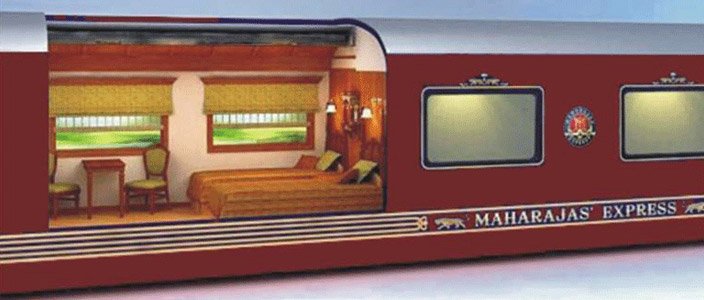 Room Area : 13'6" (L) x 7'-9"(W)
Bathroom Area : 7'9" (L) x 4'-10"(W)
| Room Category | Total / Cabin/Suite | Passenger Capacity |
| --- | --- | --- |
| Twin | 12 | 24 |
| Double | 6 | 12 |
| Total | 18 | 36 |
Each room is equipped with many facilities and designed with elegant interiors. Each room has comfortable bed of your choice with attached bathroom.
Here are the top amenities inside each junior suite.
Double bed or twin bed
Writing table
Luggage hold under the bed
Live television with LCD screen
Telephone facility
Internet with Wi-Fi
Wardrobe
Air conditioner
Personal safe
Bathroom equipments like hair dryer, bathrobe, slipper, towels, linens and others
Complimentary drinks and snacks throughout the day
Basin
Toiletries
Fire extinguisher
Shower cubicle
Butler service
DVD player
24/7 mineral water
Photo Gallery of Maharajas' Express Junior Suite Cabin :