The train is half-a-mile long and is filled with cream of luxury. The residing area of the tourists represent the royal residence of the Indian kings. The coaches are named after the precious stones Heera (Diamond) and Neelam (Blue) that are common to India. There are just four suites in the train. All the suites have double beds. The suites have a large panoramic window to enjoy the moving sceneries. Each coach has a mini-pantry and a butler to serve. The rooms have many interesting features like mini bars, bathtub, luggage hold, upholstery, separate living room, live television, internet, telephone with international facilities, LCD screen, safe, wardrobe, DVD player, air conditioning and so on. There is an in-suite bathroom with shower cubicle, bathtub, basin, slippers, hairdryers, and toiletries including bath salts. Hot water facility is also available.
Apart from these, the train has many safety elements like smoke alarm, paramedic, CCTV and others. The suites are locked with RFID and thus, your safety during the vacation is also kept in mind. All suites are provided with a butler who is available throughout the day. The tariff of the suite rooms include exclusive language speaking tour guide and luxury road transportation while on excursions at each destination. The tariff also includes all house brands of Indian wines and spirits at the bar.
Maharaja Express has taken additional care to create a splendor experience while travelling in suite. The train has redefined train journey to reflect the royal train journeys taken by heirs of Indian kingdoms. Each suite room covers 220 square feet area and each inch is filled with luxury and amenities.
Suite
( Area : 220 Sq. Ft )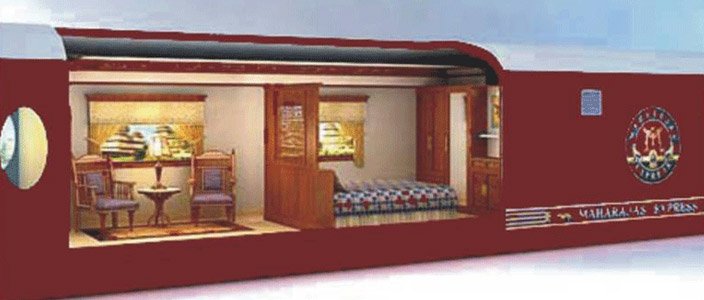 Room Area : 13'6" (L) x 7'-9"(W)
Bathroom Area : 7'9" (L) x 4'-10"(W)
| Room Category | Total / Cabin/Suite | Passenger Capacity |
| --- | --- | --- |
| Double | 4 | 8 |
| Total | 4 | 8 |
Each room have sylvan styled upholstery elegant decor and lavishing facilities.
Here is the list of amenities that are available in a suite room.
Double bed
Separate living room and bed room
Upholstery with side tables, writing table and others
Mini bar
Live television with LCD screen
Luggage hold present under the bed
Direct dial telephone, DVD player
Internet facilities
Personal safe
Wardrobe
Air conditioner that is cabin controlled with remote control
Fire extinguisher
Basin, shower cubicle, slipper, hairdryer, bathrobe and other facilities with range of toiletries
Bath tub
Butler service
Complimentary drinks and snacks available throughout the day
Photo Gallery of Maharajas Express Suite Cabin :