Top Places to Visit in Rajasthan with Maharaja Express
Maharaja Express Train is a famous luxurious train in India. Different famous and well-known tourist places will be covered by Maharaja Express Train in all over India. There are totally seven itineraries to round up India's famous tourist places. In different itineraries of Maharaja Express, you can visit Rajasthan's famous places.
Let's know the famous tourist places in Rajasthan that will be covered by Maharaja Express are Jaipur, Ranthambore, Bikaner, Jodhpur, and Udaipur. These are the places which are a part of the Journey of Maharaja Express. You should know about these destinations before booking of Maharaja Express.
1. Jaipur
Jaipur is the capital of Rajasthan and it has a great history. Jaipur is also a part of the journey of Maharaja Express. When you visit Jaipur by Maharaja Express then the famous tourist places you have to visit are Amber Fort, City Palace, Jantar Mantar, etc. These are the famous tourist places to visit in Jaipur.
#Amber Fort
Amber Fort is the famous tourist attraction in Jaipur. This Amber fort is an iconic symbol of history and its architectural style. Things to do here are trekking, shopping, ride on elephants and light show etc. Amber Fort was located on Aravalli hills so here trekking can be done. Amber Fort was famous for handicrafts, artworks etc. Tourists can go for shopping at the nearby stalls in Amer town. Elephant ride is the most enthusiastic one here to ride on an elephant and ride will costs 900 per two persons. The famous attraction of Amber Fort is Light show in the evening and guides also available in both English and Hindi.
Entry Fee: 25 Rs for Indians and 200 Rs for Foreigners.
Timings: 10 AM to 5 PM (Every day)
Read Also: Top 15 Places To Visit Near Jaipur Within 300 Kms
#Jantar Mantar
Jantar Mantar is a beautiful scientific background tourist place in Jaipur. It was built by the Maharaja Jai Sing II in the year 1710. This place is filled with different scientific yantras for different purposes like calculating time, orbits etc. This observatory is famous in all over the world.
Famous attractions of this observatory are different Yantras. All these Yantras are completely made of stone which gives accurate values. Samrat Yantra, Mishra Yantra, Jai Prakash Yantra, Ram Yantra etc. Each Yantra has its own specific functionality in different astronomy criteria.
Entry Fee: 5 Rs for Indians and 100 Rs for Foreigners.
Timings: 9:30 AM to 4:30 PM.
These are the places to be visited in Jaipur and has to enjoy the glory and royalty of Jaipur.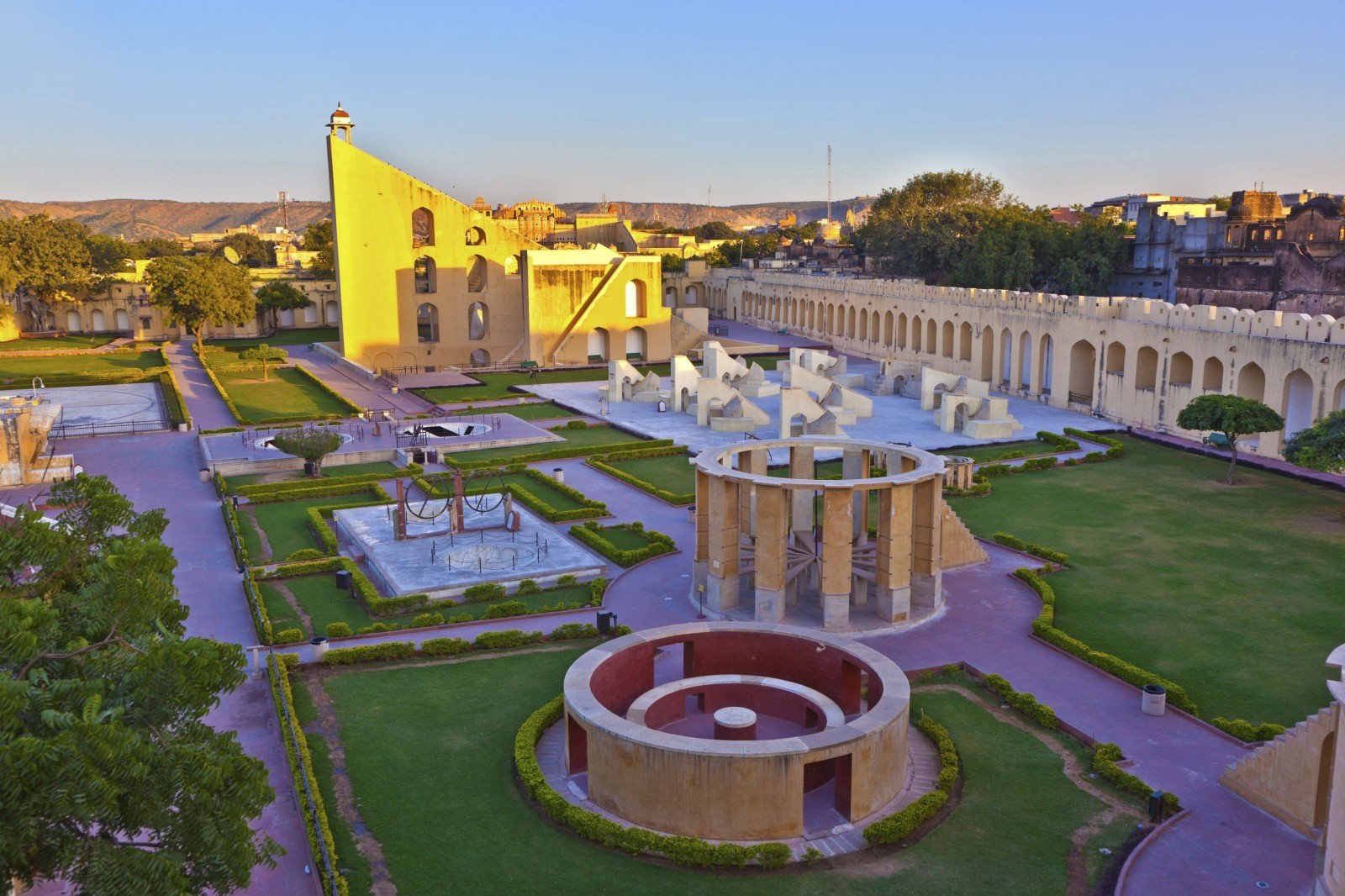 Read More: Top 10 Things To Buy In Rajasthan
#City Palace
City Palace is also a major attraction in Jaipur city. This Palace was founded by Maharaja Sawai Jai Singh II in the year 1727. This Palace depicts the royalty and architectural style of Rajput, Mughal, and European. This Palace is a beautiful complex with holy shrines, gardens etc.
Attractions of this City Palace are Mubarak Mahal, Chandra Mahal, Pritam Niwas Chowk, Diwan-I-Khas, Diwan-I-Aam, Maharani Palace, Bhaggi Khana, and Govind Dev Ji Temple. These are the major attractions of this complex building. This City Palace is the best symbol of different architectural styles.
Entry Fee: 100 for Indian and 400 Rs for Foreigners. Video camera 200 Rs and for Royal Grandeur tour is 2500 Rs.
Timings: 9 AM to 5 PM.
Also Read: Explore Jaipur Attractions with Maharajas' Express
2. Ranthambore
Ranthambore is another ideal place in Rajasthan to be visited. When you visit Ranthambore through Maharaja Express the places you have to visit is Ranthambore National park. This national park is a famous preserver of so many endangered animals and also known as tiger reserve.
Ranthambore is located near to Sawai Madhopur district in Rajasthan. It is a famous tiger reserve in India within the area of 392 sq km. You can see a large number of groups of tigers roaming and its little cubs. It is the best place to experience the tiger's environment around us. Not only tigers, this wildlife sanctuary is home to different birds species, plants, reptiles, and trees etc.
Read On: A New Year's Eve on The Luxurious Wheels; Maharaja Express Train
Ranthambore is home for nearly 320 species of birds, 50 species of Butterflies, 40 species of mammals, and 300 species of plants etc. This Ranthambore forest includes Ranthambore Fort, Kachida Valley, Lakarda Anantpura etc. Ranthambore is the place for so many endangered species, flora and fauna.
To experience the jungle of Ranthambore you have to go for a jeep safari. Here Jeep safari is the best choice to explore the wildlife of Ranthambore. Through Maharaja Express Ranthambore is the best place in Rajasthan to explore wildlife.
The best time to visit Ranthambore National park is 1st October to 30th June. Rest of the time the park will be closed.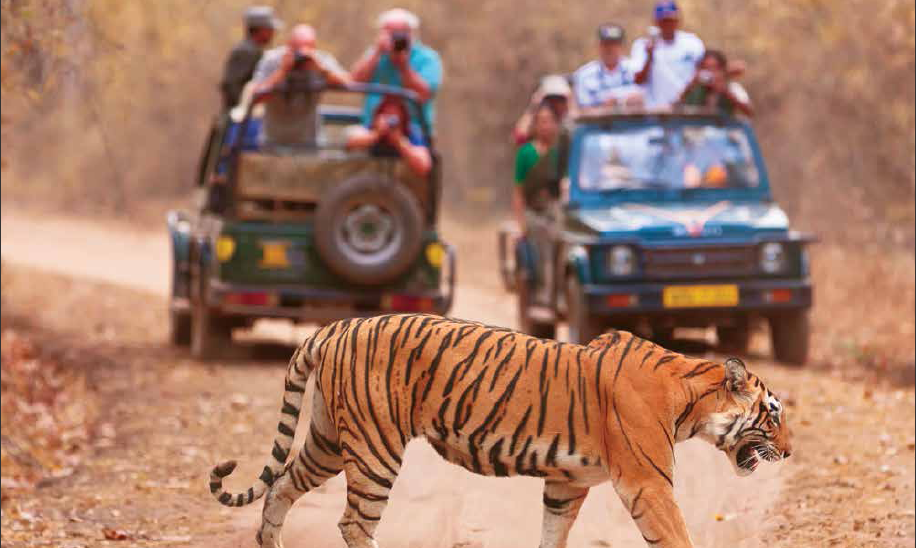 Also Read: Tips For Traveling With Kids Over Christmas In Maharajas Express Train 2018
3. Bikaner
Bikaner is another important tourist place in Rajasthan to be visited while traveling on Maharaja Express. Bikaner is popularly known as "Camel country". Famous tourist places in Bikaner are Deshnok temples, Junagarh Fort etc. Some other activities like camel cart near Sam Sand dunes and other cultural programmes by Kalbeliya and Langa artists. These are the tourist attractions in Bikaner.
#Deshnok Temple
Deshnok temple in Bikaner is popularly known as Karni Mata temple. This temple is the major attraction in Bikaner with a large number of rats. This temple was built by Ganga Singh in the 20th century. This temple is most famous for its spiritual significance. Many tourists visit this temple to explore the architectural style of Deshnok temple.
There is a weird belief in this temple is the roaming rats. Nearly 20,000 brown rats roam in this temple. Devotees of this temple belief these rats carry the souls of dead charans. If anyone sees a white rat they feel that they are lucky. This is the strange tradition in this temple.
Architectural levels of this temple are so great. This temple was completely made of marble facade and the Goddess is enshrined in the inner spectrum. A popular event in Deshnok is the Gangaur Festival in the month of March.
Timings to visit: 5 AM to 10 PM (Every day).
Read Also: Camel Fair Festivals in Bikaner 2019
#Junagarh Fort
Junagarh Fort is another famous monument in Bikaner. Junagarh Fort is located in the middle of Thar Desert and it was built by Raja Rai Singh in the year 1594. This fort is a complex of different temples, palaces, and pavilions. Famous attractions in this fort are the seven palaces. They are Phool Mahal, Chandra Mahal, Anup Mahal, Bikaneri Havelies, Bada Mahal, Ganga Mahal etc. These are the famous palaces in this fort.
Another attraction in this fort is a temple known as "Ratan Behari Temple". This temple was mostly visited in the time of Gangaur festival and Dussehra festival. There is also a museum which was established in 1961 by Maharaja Dr. Karni Singhji. This museum displays royal costumes, howdahs, photo galleries, Sanskrit and Persian manuscripts, jewels, etc. The complete structure of the fort was built with Redstone and marbles. The architectural style of this fort attracts many tourists.
Entry Fee: 50 Rs for Indians and 300 Rs for Foreigners. For still camera is 20 Rs and video camera is 150 Rs.
Timings: 10 AM to 4:30 PM (Every day).
Other Activities in Bikaner
Other activities that can be participated here are camel cart and some cultural performances. Camel cart ride near Sam Sand Dunes is the best activity to explore the vicinity of Thar Desert. Some other cultural performances by the Kalbeliya and Langa artists are so attractive in Bikaner. These are the things can do in Bikaner when you visit.
Also Read: Top 10 Winter Destinations in India to Enjoy with Maharaja Express
4. Jodhpur
Jodhpur is another famous tourist city in Rajasthan and popularly known as "Sun City". Jodhpur is the second largest city in Rajasthan which holds a number of tourist spots. The tourist places that can be covered while traveling in Maharaja Express are the Umaid Bhawan Palace Museum, Mehrangarh Fort, tour to Bishnoi village and cultural programme at Hanwant Mahal etc.
Tour to Bishnoi Village
Bishnoi village is a famous tourist spot in Jodhpur. This village resembles the tribal life of true Rajasthani's. This village people are nature lovers. They never curb down trees, don't harm animals and they completely love the environment. There was a great history to this village. In 1730 revolt nearly 363 Bishnois sacrificed their lives in protecting trees.
This village is also famous for migratory birds like blackbucks, domicile cranes, and chinkaras etc. In one word Bishnoi village is like a desert Oasis in Jodhpur. Safari in this village makes you view potters family, shepherd family, farmers family, weavers family, Bishnoi family etc. These are the families which are living in Bishnoi village. Never miss a tour to Bishnoi village in Jodhpur. It is the best place to find the natural beauty in human beings.
Read On: Maharajas&; Express Takes You to Admire the Palaces, Puppets and Folklore in the Majestic Rajasthan
#Umaid Bhawan Palace
Umaid Bhawan Palace in Jodhpur is the famous tourist palace. This palace was located on chittar hill which is the highest point in Jodhpur. This Palace was the last palace built in India after Independence. The architectural style of this Palace attracts the tourists in more number. The architectural style of this palace depicts the style of Rajput and Victorian.
This Palace was mainly divided into three compartments. The three compartments are the Museum, Maharaja's royal residence, and a heritage hotel. Attractions in this museum were the collection of different weapons, a banner presented by Queen Victoria and the clocks which resemble the royal era of Rajasthan.
Some other interesting spots in this palace are the Trophy Bar, Billiards Room, Umaid Bhawan Palace Hotel, and Umaid Bhawan Palace Museum. Each one holds different interesting things in this Palace. Umaid Bhawan Palace is the most adorable tourist spot in Jodhpur.
Entry Fee: 25 Rs for Indians and 50 Rs for Foreigners.
Timings: 9 AM to 5 PM (Every day).
Explore: A Complete Travel Guide to Ajanta Ellora Caves with Maharaja Express
#Mehrangarh Fort
Mehrangarh Fort is another fort in Jodhpur which is famous for its architectural style. This fort was built by Rao Jodha in the year 1459 and this fort was covered in 5 km and located on a 125 m high hill in Jodhpur city.
One of the attractions in this fort are the seven gates. These seven gates in this fort were built by different kings to honor the victory over Bikaner and Jaipur armies. The panoramic view of the Jodhpur can be seen from this fort which is a spectacular view. Different famous Palaces in this fort are Moti Mahal, Sheesh Mahal, Zenana Dude, Jhanki Mahal, Phool Mahal, and Takht Vilas.
Major temples in this fort are Chamundi Devi Mandir and Nagnechiaji Mandir devoted to Goddess Durga and Kuldevi. Museum in this fort displays collection of palanquins, royal cradles, arms, furniture, musical instruments, and paintings etc. These are the attractions of the Mehrangarh Fort in Jodhpur.
Entry Fee: 60 Rs for Indians and 400 Rs for Foreigners.
Timings: 9 AM to 5 PM (Every day).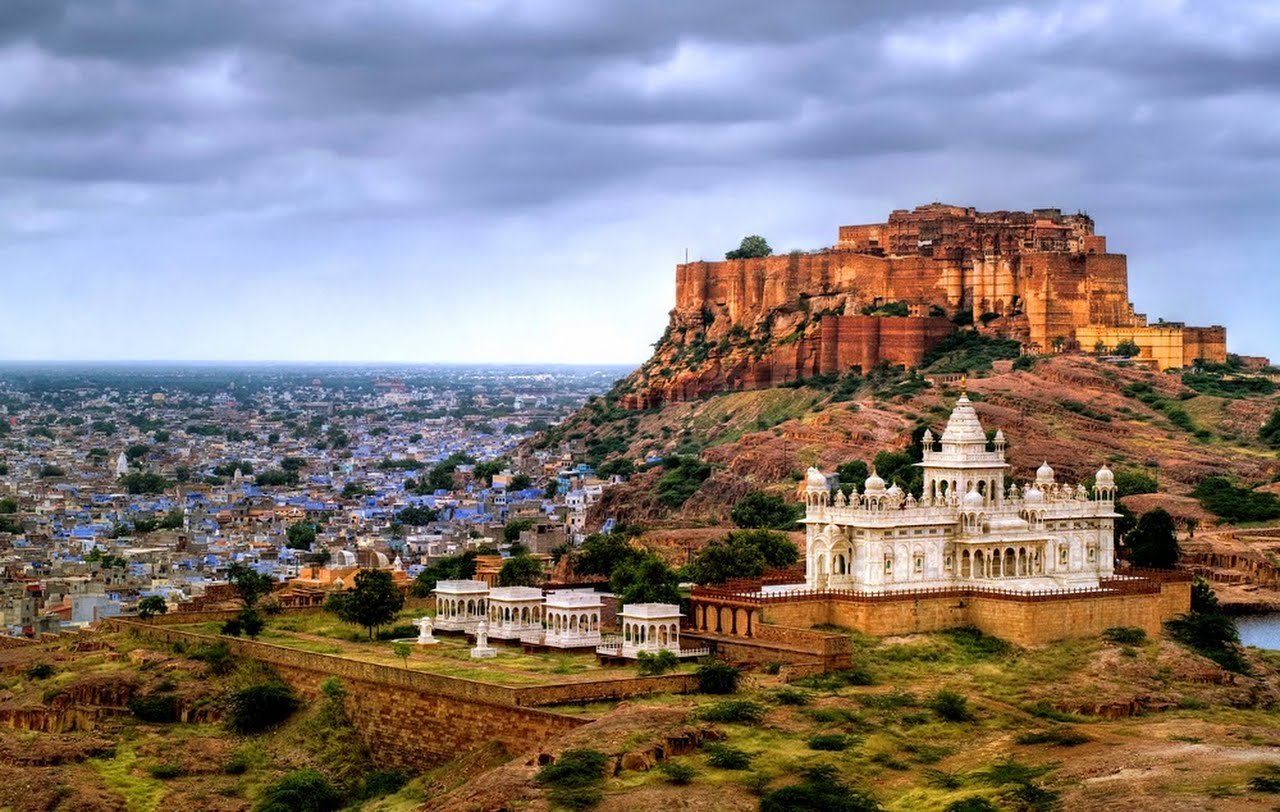 Also Read: Top Places to Visit in Jodhpur – The Blue City
5. Udaipur
Udaipur is popularly known as "City of Lakes" in Rajasthan. There are many tourist places in Udaipur that's why it is called "Venice of East". while traveling on Maharaja Express the tourist places that can be covered are City Palace and Crystal gallery, walking tour across old bazaar, and Fateh Prakash Palace.
#City Palace
City Palace is the major attraction of Udaipur city. This palace was located on the eastern banks of Pichola Lake. This palace is the best example of the architectural style of Rajasthani, Mughal, European, and Chinese. This city palace is a complex building which holds different monuments and Temples.
The famous monuments in this palace complex are the Lake Palace, Monsoon Lake, Neemach Mata temple, Jag Mandir, and Jagdish Temple etc. This palace was laid in between Aravalli mountains which gives grandeur look to the palace. This place was completely built with granite and marble. The admirable architectural works of this palace are marble-work, silver work, inlay-work, murals, wall paintings, mirror-work etc attract the tourists.
Other attractions of this palace are Badi Mahal and Zenana Mahal. Badi Mahal is famous for miniature paintings from the 18th to 19th century and Bhim Vilas in this palace is the best place for miniature paintings. Zenana Mahal is well designed with colored windows, tiled walls, balconies, and floors. This Mahal was beautifully designed because it was a women quarters in olden times.
The Mewar sound and light show is another attraction in this palace at Manek Chowk. This sound and light show takes place in between 7 PM to 8 PM which depicts the history of Rajasthan.
Entry Fee: Adults 30 Rs and 15 Rs for Children.
Timings: 7 AM to 11 PM.
Read On: Get a Royal Feel at Taj Lake Palace, Udaipur
Walking tour to Old city in Udaipur
Walking tour in Old city of Udaipur will give a different experience in your life. A guide will explain every part in this area. You will start your journey from Old city bazaar where everything is available. Passing by narrow streets and exploring the city gives a different feeling and enthusiastic.
Different paintings on the walls give an attractive look to the houses. Clay works, metalsmith's workshop, different havelis etc will entertain you during the walk. The major attraction of this Old city is the Jagdish Temple which was built in the 17th century. The carvings and sculptures of this temple attract tourists mostly. Then later some hawker sellers, bamboo baskets markets, etc will be passed during the heritage walk. The end of the walking tour in Old city will be end at Gangaur Ghat which is famous for an overview of Lake Pichola.
Read More: Amazing Things to do in Udaipur – The City of Lakes
#Fateh Prakash Palace
This palace is famous for Marwari traditional hospitality in Udaipur. It was located on the banks of Lake Pichola. This Palace is a luxurious hotel and it has a great history. This palace was the residence of Maharana Fateh Singh and this one is famous for its architectural style and heritage.
Attractions in this Heritage hotel is different paintings. Interiors of this Palace was beautifully designed with lavish paintings and historic arts. Other attractions of this Palace are rising turrets, chandeliers, domes and the Durbar Hall. Among them, Durbar Hall is the attractive section in this palace with different paintings of the Maharanas and their weapons.
Also Read: The Beauty of Annual Mewar Festival – Udaipur
Conclusion
These are all the places that will be covered by Maharaja Express. While travelling on Maharaja Express never miss these places and glory of Rajasthan.
Suggested Articles:
Other Places to Visit with Maharaja Express :